Written by:
Amy Brown
Recently, I was given the rare opportunity to spend a few days on a Naval aircraft carrier while it was out at sea. On the morning of November 8, I, and a handful of others who work in the entertainment industry, met at the North Island Naval Base in Coronado, California. After learning about its history and getting briefed about the carrier and what to expect during the next few days, we were off.
First, a bit about the ship, the USS Carl Vinson (CVN 70), otherwise known as "America's Favorite Carrier." The ship is named after Carl Vinson, a congressman from Georgia, in recognition of his contributions to the U.S. Navy and was first launched in 1980. The ship houses more than 5,000 crewmembers, 15% of whom are female (Navy-wide females make up 18%), whose average age is just 21 years old. Interesting fact: the body of Osama Bin Laden was buried at sea from the USS Carl Vinson in 2011.
After our briefing, we were prepped for takeoff and a most unusual landing. As you can imagine, landing a plane on a runway on a ship just over 1,000 feet long is no easy feat. Planes must perform an arrested landing, or trap. The arresting gear consists of a series of steel wire ropes laid across the landing area designed to be caught by the aircraft's tailhook, which hangs off the back of the plane. As they come in for a landing, pilots actually accelerate in preparation for immediate take off on the chance that the tailhook does not catch and they have to try again. Our pilot for the day assured us that when a plane misses the wires, or bolters, it hurts only his ego.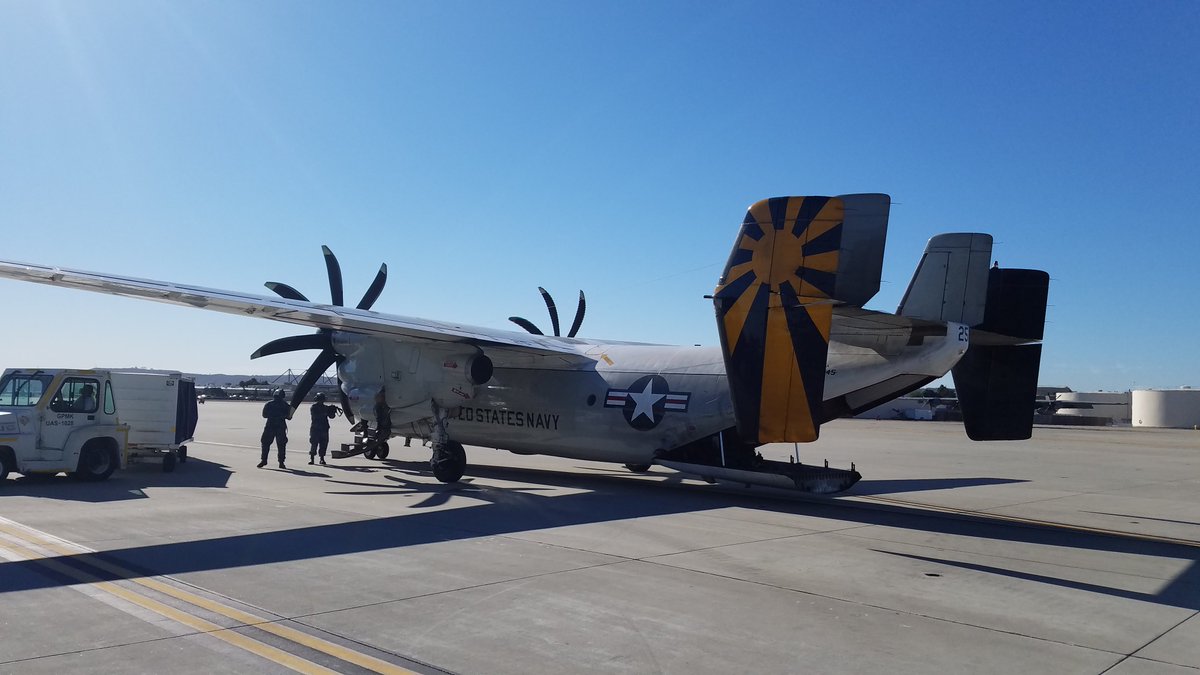 Our ride to the carrier, a COD (Carrier Onboard Delivery).
Our pilot landed successfully on the first try and while it was definitely intense, the abrupt stop was much smoother than I anticipated. We were immediately ushered off the aircraft and quickly taken under the deck for some nourishment (including what the crewmen had dubbed "crack" cookies) and a brief meeting with the ship's XO (Executive Officer) and CO (Commanding Officer). After our sea legs started to form, we put on protective gear and headed back up to the deck to watch the next round of flight exercises. The ship recovered 14 planes that had been in the air on various missions from the morning and we witnessed 12 take off, all about a minute or two apart.
Like landing, take off is not standard on an aircraft carrier either. The planes are catapulted off the ship, what is referred to as a cat shot. Steam catapults like the four we saw on the USS Carl Vinson have been in use by the Navy since the 1950s. At launch, steam pressure builds up then breaks as the aircraft is pulled along the deck at high speeds. The two catapults at the front of the ship seemed to send the planes directly into the air.
With our chests rattling along with the planes' engines, we stood in awe just a few feet away from the aircraft whizzing by. The first day, we had the opportunity to witness three of these exercises, two during the day, and one in the dark of night. Everything was expertly choreographed and perfectly executed. We saw not a single plane bolter all day.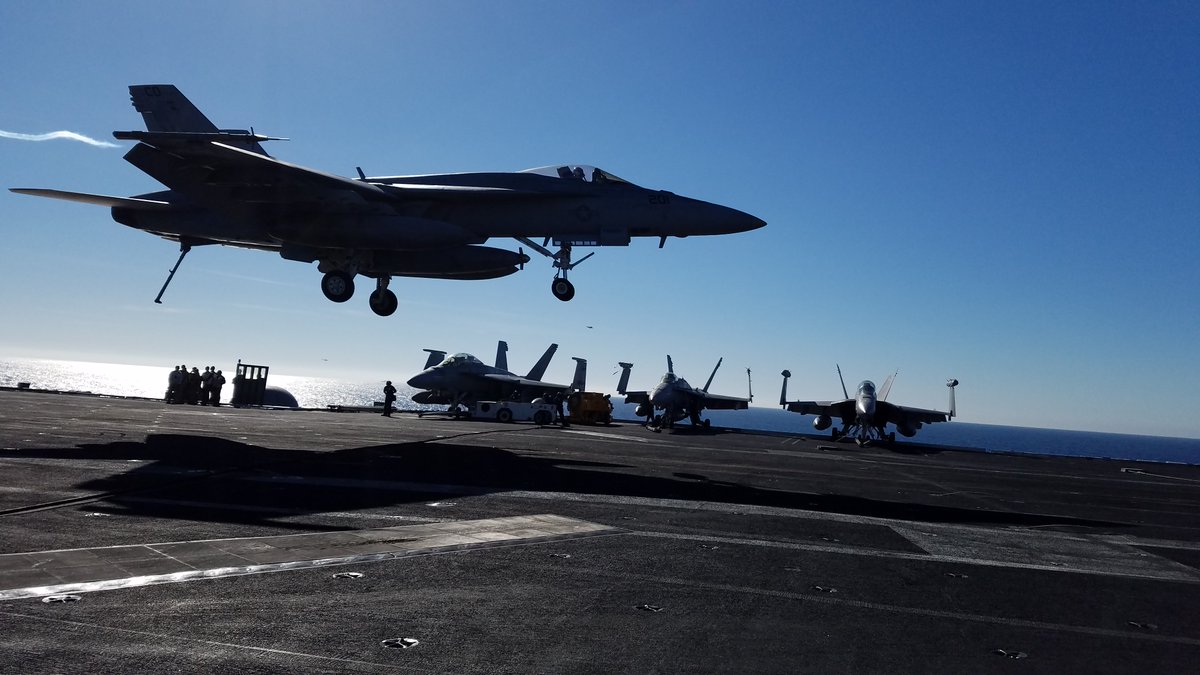 A fighter jet comes in for a landing.
The rest of that day was jam-packed touring various departments on board the ship and meeting with the crewmen who keep them up and running. We visited Air Ops and the ship's radar room and saw firsthand how they monitor and control each plane's movements. We sat down with the Chaplain who works tirelessly to make sure each and every man and woman aboard the ship is able to exercise his or her right to religious freedom and who serves as a counselor to any who need him. Next, we spoke with a young man from the Ordnance Division who enthusiastically walked us through the weapons they build on board the ship, teaching us which aircraft they attach to and how they work. One particularly interesting bomb was meant only to send a message, literally. These SUU-76 bomb dispensers can be packed with paper fliers and used to warn a village that a strike is coming or to tell a stricken town that humanitarian aid is on its way.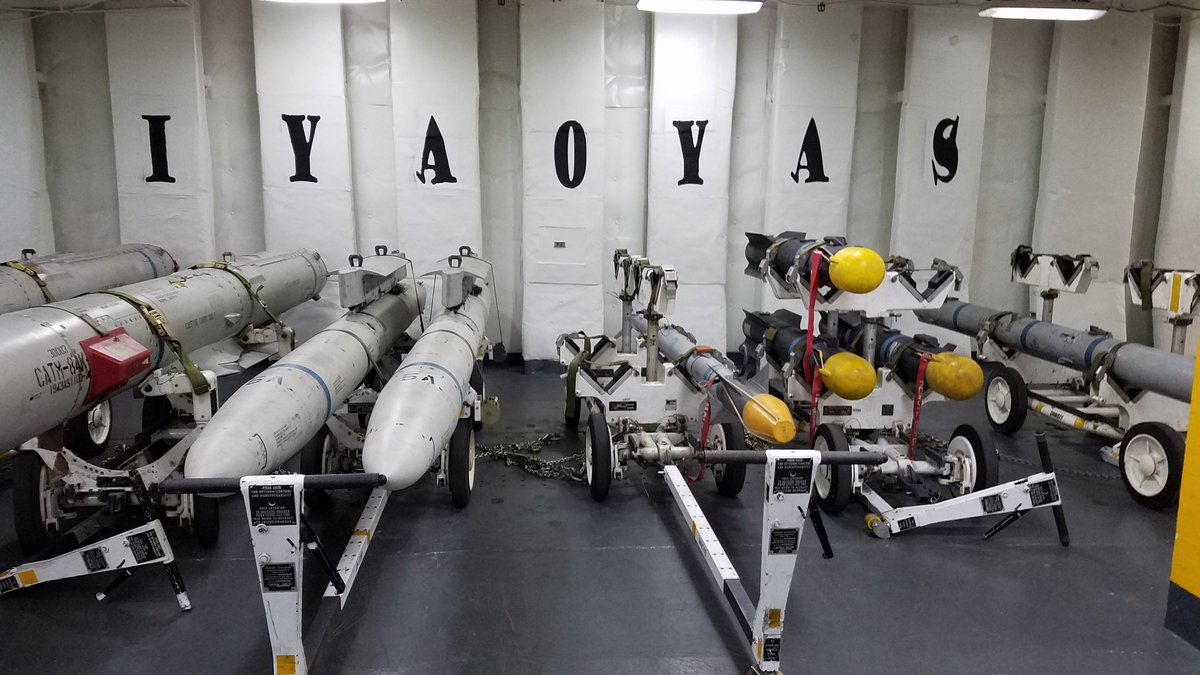 Missiles on board the ship.
That evening, we had dinner with the XO and the ship's Chief Engineer before checking out the JETI (the Jet Engine Test Instrumentation) shop and falling into bed, exhausted, after a long and informative day.
Our group was lucky as the next day was a "no fly" day, so the USS Carl Vinson was stuck with us an extra day compared with the typical tour group. Our luck extended beyond that as there was a replenishment scheduled for that day as well. We watched as another very large ship pulled up right alongside us. Hoses extended over and connected to the USS Carl Vinson to refuel our ship. Simultaneously, helicopters were flying back and forth, delivering supplies (hopefully ingredients for more cookies) and taking away unnecessary items such as trash and broken gear.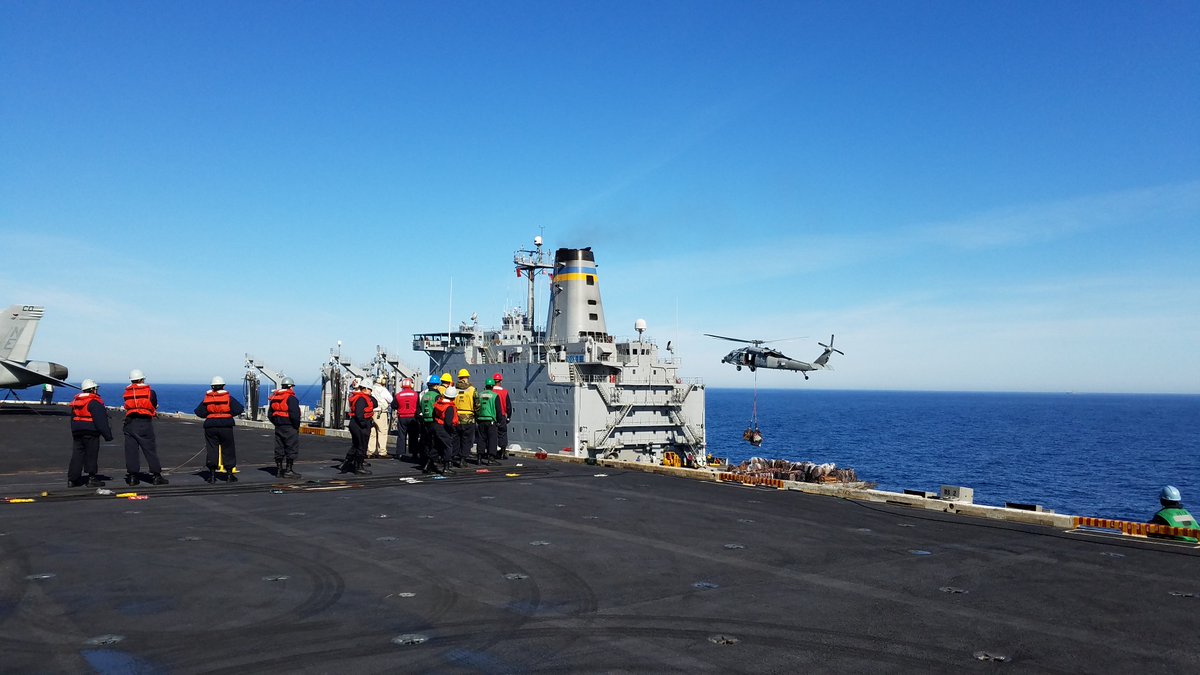 Getting ready to start refueling.
We then had lunch with some of the junior crewmen who were encouraged to speak freely with us and give us their honest opinions and feelings about being in the Navy and on this ship. I thought this would be our opportunity to get some dirt, but each of them simply exuded a general enthusiasm for the Navy and their respective positions. I am not quite sure I could have cut it at that age, living in such tight quarters and working 12 hours almost every day. It really is these 18-, 19-, and 20-year-old kids making the whole operation run and run so smoothly. Every one of their superiors were the first to point that out to us.
After lunch, we visited the medical unit and met with the doctors, nurses, surgeons, and dentists on board. Next, we heard from a couple members of the EOD (Explosive Ordinance Disposal) unit, basically Navy SEALS, but on steroids (however, I am sure a SEAL would tell you otherwise). These are the guys jumping out of airplanes to recover and disarm a rogue weapon or to rescue a fellow sailor (or civilian) who has come into harm's way.
We heard from fighter pilots and helicopter pilots and took a tour of the hanger bay where planes are stored and where maintenance on them is performed. We ended our evening by getting a rare glimpse behind the food scene on the ship. Just a few kitchens pump out four meals every day to feed more than 5,000 sailors. After a lengthy introduction to the "magic" smart ovens they use, I know where my next $20,000 is going (seriously, the oven will whip your eggs for you!).
One our third and final day we checked out the media room where all the ship's press is handled and also where the team creates original content for their fellow sailors. A few new ideas I saw scribbled on a white board were "Dirty Jobs," "How It's Made," and "CVN 70 Cribz." Next, we visited the ship's jail, or brig, and spoke with the warden. The cells were all empty and I was happy to hear that when they do have prisoners, it is usually a result of a series of minor infractions rather than serious crimes.
After lunch, we were prepped for our own cat shot off the ship. If only every airport could be as efficient as the Navy. Our flight was scheduled to take off at 1 pm and at exactly 1 pm we tucked our heads and held on while we were pulled from 0 to 150 mph in just a few seconds. To say it was exhilarating would be an understatement. We landed back at Coronado exhausted and with our minds reeling to settle into traffic headed for our lives back on land in Los Angeles.
I want to give a huge thanks to Lt. Andrew DeGarmo and Ensign Stuart Phillips for taking us to as many nooks and crannies of the ship as possible, to Lt. Commander David Daitch and LCDR David Bennett for making the tour happen, and to every man and woman aboard that ship who took time out of their days to make us feel welcome and share their stories.
---
The statements and opinions expressed in this piece are those of the event participants and do not necessarily reflect the views of any organization or agency that provided support for this event or of the National Academies of Sciences, Engineering, and Medicine.