Written by:
admin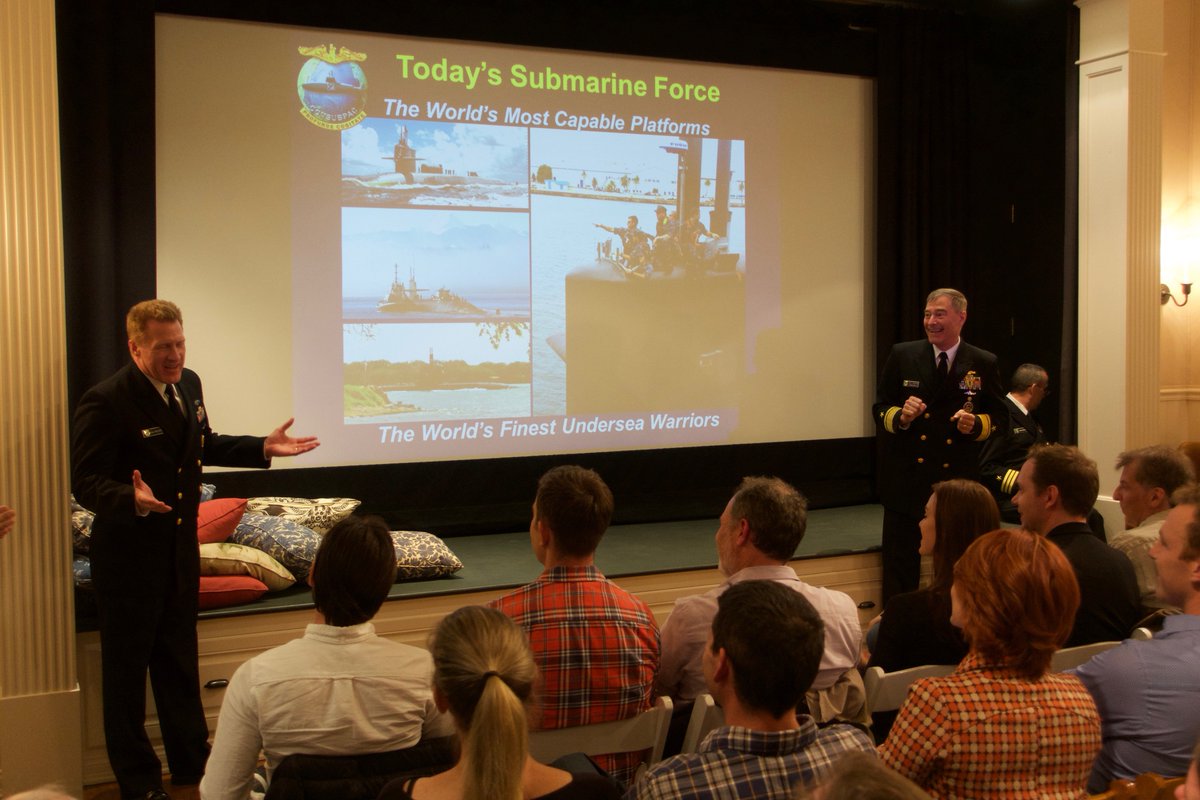 Force Master Chief Russell Mason & Rear Admiral Fritz Roegge
I took a World Cinema class my sophomore year of college. My teacher, who had spent several years studying in Germany, insisted on showing us Das Boot (1981). Before that, my experience with submarines had included the Beatles hit, the now-long-forgotten ride at Disneyland, and some late-night re-runs of Operation Petticoat.
Das Boot was something else.
Recently, The Science & Entertainment Exchange met at the beautiful Brentwood Hills home of Jerry and Janet Zucker. Scientists, film and science enthusiasts, and Hollywood's elite gathered for an evening of appetizing dishes, charming chatter, and … submarines?
Joining the usual suspects this evening was honored guest and primary speaker Rear Admiral Fritz Roegge, Commander of Submarine Force, U.S. Pacific Fleet. Admiral Fritz has previously served as director, Military Personnel Plans and Policy Division (N13) with a concurrent period as director, Total Force Manpower Division (N12) on the Navy Staff. His sea tours include USS Whale (SSN 638), USS Florida (SSBN 728) (Blue), USS Key West (SSN 722), and command of USS Connecticut (SSN 22).
Joining him was Force Master Chief Russell Mason (that's right, he is Master of "the Force"). Chief Russell assumed duties as the force master chief for Pacific Submarine Force in June 2014. He temporarily became the fleet master chief for U.S. Pacific Fleet in April 2015. His list of awards and decorations include the Meritorious Service Medal (two gold stars) and Navy Commendation Medal (one silver star and one gold star).
These two men, along with their many Navy comrades that joined the festivities, never ceased to have the room smiling. It's amazing what a strong sense of humor one can develop when trapped in a steel tube for months on end.
Admiral Fritz graciously shared some personal photos from his experience (my favorite—a polar bear gnawing on his submarine's antenna), information on the evolution of submarine technology, and his opinions on the most accurate (and inaccurate) representations of submarines on screen. I'm proud to say that Das Boot made the cut.
Some fun facts from the evening—turns out, that you must volunteer for submarine duty. That specific service is entirely voluntary. What's more, with the new technology, almost everything below surface can be operated with a joystick. So if you've spent countless hours at the arcade, the Navy might be for you.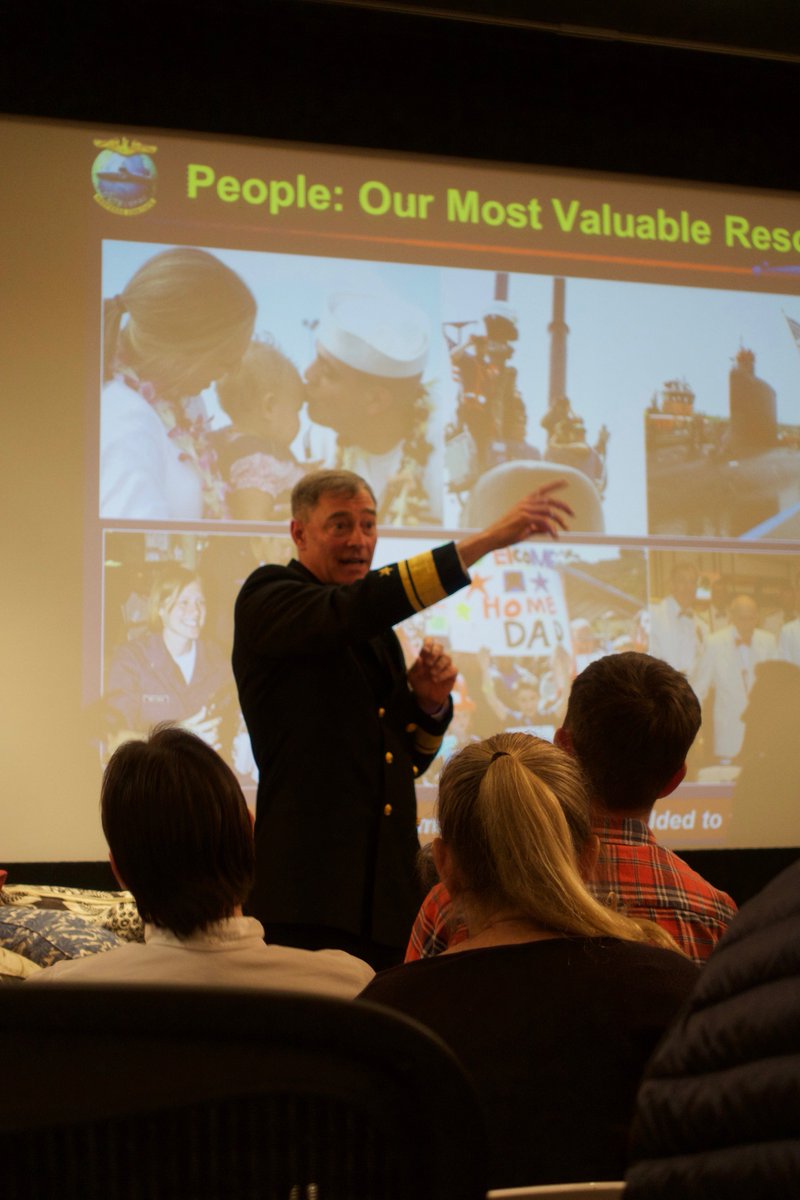 Rear Admiral Fritz Roegge
The Admiral and Force Master Chief were more than happy to answer everyone's questions and there were many! Perhaps some of the most memorable:
What do you do to keep busy [on the submarines]? "Watch a lot of movies," according to the Admiral. Sometimes, they work out. "We have a treadmill, but not a normal-sized one. A really skinny one that doesn't take up space."
Do people instigate fights when they find themselves growing restless under water for so long? "Horseplay," said the Force Master Chief. "Usually, just some horseplay. There's no room for fighting."
I was more intrigued by the labeling of submarine ships. SSN? SSBN? I've always been a fan of acronyms. Turns out, SSN refers to Submersible Ship, Nuclear, while SSBN stands for Submersible Ship, Ballistic (Ballistic missile submarines) with nuclear warheads. The latter became a major weapon system in the Cold War because of their nuclear deterrence capability.
The night was certainly one to remember, for both content and company. As an intern for the Zuckers, I was thrilled with the task of photographing and documenting the evening, affording me the chance to not only attend, but also meet some of my favorite writers and directors. It was a fantastic learning experience, and I can honestly say, that I have newfound respect for the Submarine Force, and even more, for the men and women that operate it.
---
The statements and opinions expressed in this piece are those of the event participants and do not necessarily reflect the views of any organization or agency that provided support for this event or of the National Academies of Sciences, Engineering, and Medicine.