Written by:
Meeri Kim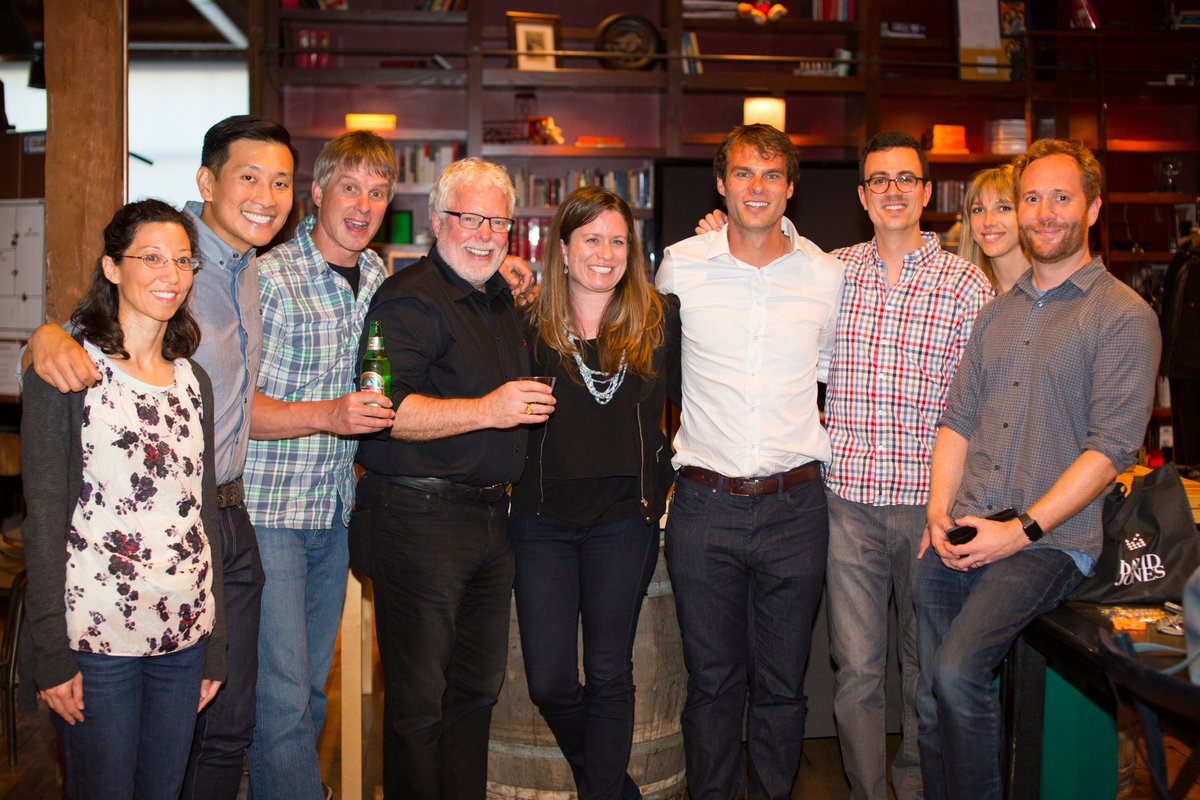 When Mike Libecki traveled to eastern Greenland last July, the famed adventurer had two missions in mind. First and foremost, he sought to summit the elusive Polar Bear Fang — an unclimbed granite monolith bigger than Yosemite's El Capitan. This expedition would make for Libecki's fourth attempt on the tower in a decade.
Over the course of 72 hours, he scrambled over loose rock, weathered snowstorms, and crawled gingerly over a crevasse-ridden glacier. But in the end, Libecki celebrated on the peak of the Polar Bear Fang by donning a ram mask, one of the eccentric adventurer's climbing traditions.
After his victory, he could focus solely on his secondary mission: collecting polar bear poop in the name of science.
Last Friday evening, The Science & Entertainment Exchange gathered at The Great Company in the Arts District to marvel at the work (and stunning photos) of adventurers like Libecki who graciously lend their skills to conservation research. The event, "Science, in the Extreme," consisted of four talks by two adventurer/scientist collaborative pairs and finished with a lively panel discussion.
The event highlighted the efforts of Adventure Scientists, a nonprofit based in Bozeman, MT that recruits members of the outdoor adventure community to help gather data — for instance, polar bear poop — from far-flung, hard-to-access places. Quite a fitting organization for The Exchange to host, given their common goal of bringing together professionals from two disparate industries.
"Because there were thousands of people like me — people who love the outdoors and so desperately wanted a way that they could make a difference with their time outside — and the scientific community needed so many different types of data from the environment, I created this organization," said Gregg Treinish, ASC's founder and executive director, who kicked off the night with a brief presentation. He explained how the nonprofit was born in 2011 out of his interest in both scientific discovery and exploration.
Similarly, the next speaker described leading a unique double life as both scientist and adventurer. Hari Mix, an alpine climber with a day job as an Assistant Professor of Environmental Studies and Sciences at Santa Clara University, ultimately chose his research focus based on a lifelong passion for the mountains. His work often required research trips to places like Mongolia to collect sediment samples in an attempt to reconstruct ancient climates. Following the data collection, he would climb a nearby mountain as a separate, personal endeavor.
"It was through these trips that I started to strive for a little bit more, because climbing is kind of pointless," said Mix. "It's very personally fulfilling for me, but I was also kind of growing as a young scientist and going to all these places, but there was a disconnect between my academic work and my climbing life."
After connecting with ASC, Mix began using these side expeditions to gather rock and ice samples for researchers like Natalie Kehrwald, a Research Geologist at the U.S. Geological Survey. Kehwald, who spoke after Mix, needs ice samples from extreme mountain environments to peer backwards into climates of the past. Determining past temperatures and atmospheric chemistry from this type of ice can give us more information about modern climate change — and just how worried we should be.
Then Libecki captivated the crowd with his tales from Greenland, including the process of collecting animal feces for microbiologist and Harvard Medical School professor Michael S. Gilmore. Anytime he spotted feces on the ground, he would tag it, note the GPS coordinates, and seal it away in a bag to bring back to Gilmore's lab.
"This adventure lifestyle is a selfish pursuit, but I think we all have a selfish pursuit in anything that we want to do in life," said Libecki. "So having Gregg give me the opportunity to start giving back has been an honor."
In the last talk, Gilmore introduced a chuckling audience to "Softy," a cartoon character in a children's book about understanding poop. He made the point that fecal matter actually contains valuable information about the microbiome of an organism. By studying the microbes in a sample, we can detect changes in an animal's health over time — in other words, poop can be seen as a biomarker.
When he got in touch with ASC, Gilmore wanted to investigate samples from remote, untouched places on Earth — like Greenland — in order to see what microbes truly look like in nature. In particular, he was interested in microbes isolated from the effects of antibiotic resistance, one of his main research specialties.
All in all, "Science, in the Extreme" did a phenomenal job bringing the noble work of ASC to light for members of The Exchange. The night emphasized the power of partnership, even across very different fields and industries, to advance scientific exploration and address the world's environmental challenges. 
---
The statements and opinions expressed in this piece are those of the event participants and do not necessarily reflect the views of any organization or agency that provided support for this event or of the National Academies of Sciences, Engineering, and Medicine.